They say that there's no such thing as a free lunch, but when it comes to motorbike HPI/vehicle checks this isn't always true. Here at FreeCarCheck we can also run a full history check on any UK registered motorcycle, trike or scooter.
Buying a motorbike is a risky business – and you don't want any surprises later. The risks are higher if you are buying a used bike, too. Like most people you probably want to be assured that the price you are paying for the bike is fair, and there are no hidden nasties.
You've probably seen various Facebook groups that share stolen bike details: sadly bike theft is rife in the UK. What's more nowadays, the police may not be interested – we've heard reports of the police not even bothering to turn up to inspect for clues after a bike has been reported stolen. The odds of getting your back bike are slim.
All in all, it seems buying a bike today in the UK is a high-risk activity. You probably just want to enjoy your new toy, not worry if it has been previously stolen.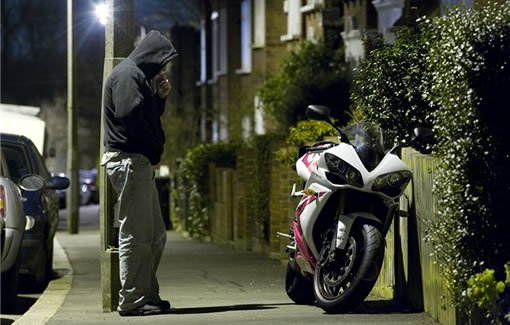 Why should I bother with a motorcycle HPI check?
For much the same reasons as you would with a car – and don't forget, bike crime is rampant, sadly.
It's much easier to mask a dodgy VIN or lie about a bike's history than it is for a car, so buying a motorbike check is not to be overlooked. Frankly, it should come quite high up on your list of due diligences.
In short, if you're buying a used or new motorbike then get the full facts on its history first, before handing over your cash.
Motorbike finance checks – are they worth it?
As you probably already know, buying a motorbike is cheaper than buying a car, generally. But that doesn't mean that everyone buys their dream ride with cash! In fact, according to the most recent statistics, around two thirds of all new bikes are purchased using some sort of finance package.
With that statistic in mind, getting the full facts is important: if the motorbike or scooter has outstanding finance, then it pays to know about it! If you inadvertently buy a motorbike (or any vehicle) with outstanding finance then you may be expected to pay off the outstanding finance or hand the vehicle back. A situation nobody wants to find themselves in!
FAQs
What happens if I buy a stolen motorbike?
Some of the statistics on bike theft are pretty shocking. We all know someone who has had at least one bike stolen, often multiple. Whether it's from your secure garage at night, or from the petrol forecourt while you're paying the cashier, the fact is that it's still very easy to pinch a motorbike.
Bike thefts are on the rise, despite new technology trying to prevent them.
Buying a stolen bike is risky – the worst case scenario is that you'll have the vehicle seized, without any refund. You coul try pursuing the seller legally to recoup the costs, but be aware: in UK law, if you bought it from a private seller, there is very little legal comeback.  If you bought it from a registered trader then you may have some options, but it'll be a complete headache and drain of your time and finances. As the saying goes, why throw good money after bad?
Therefore, going into the purchase with both eyes open is a must. Spending a few thousand pounds on a motorbike without checking its history first, might not be the smartest idea, particularly when a full bike check only costs £9.95.
Make sure that you know the full bike's history before you buy, with a motorbike history check – nobody wants to buy a stolen motorbike!
Tip: if you have bought a stolen motorbike then check out Bikers United, a database and helpful website for those affected by motorbike theft. You can report your own bike as stolen, for free.
Are motorcycle history checks actually free?
We are called Free CAR Check but we can also check any bike, moped or scooter. As long as it's UK registered, we can tell you the full motorbike history of it. Some of the information we provide isn't free, but thankfully some is.
For example, a finance check or import/export check are never free, because suppliers will be charged money to obtain this information from the DVLA. Therefore be wary of any company claiming to offer completely free, full motorbike history checks — because they are probably not being truthful!
Here's the type of bike data that we provide for free:
Full MoT History
MoT dates
VED status
Renewal rates and dates
Emissions data
Import status
Bike colour
Colour change(s)
If you're looking for a more in-depth check then for only £9.95 (inc. VAT) we will fully verify the vehicle's history for you. That means: checking for things like outstanding finance, stolen status, write-off history, scrapped checks, and much more.
You can check the MOT History and VED status yourself on the GOV.uk website – this works for bikes, as well as cars.
Comparing our prices with other companies like HPI Check? Well we're -50% cheaper, as HPI will charge you £14.95 for a single check (that's if you buy multiple ones, too!). Why pay more for the same types of data?
All our motorcycle history data comes from the DVLA, Experian, MIAFTR, SMMT, DVSA and many more government agencies.
Will a Bike Check show the previous owner details?
No. A vehicle check – whether for a bike, lorry, or motorbike – will never show you the previous owner's details (such as their name or address). It will show you how many previous keepers there have been. The DVLA strictly control this, and due to GDPR, it is rarely disclosed – but you can request previous owner details within reason.
There is more information here on previous keepers.
Do Motorbikes have the same categories of damage (E.g.: CAT D)?
Yes.
Motorbikes, like all other road vehicles, will use the same system. Either the "new style" CAT N, S or the older-style CAT C, D.
As for which system is in use: it depends when the damage was recorded on the bike.