Thinking of buying a classic car? Worried about its history? Perhaps you're unsure if you can even look up the history of a vehicle that is pushing 50 years old! Well the good news is that you can, in most cases: as long as a few basic rules are followed.
In this guide, we will go through exactly how to verify the vehicle history for older motors – also known as classic or collectible cars.
Will an HPI vehicle check work for a classic car?
In most cases, yes.
An older vehicle may not have a full MOT History and it may even be MOT exempt by law, but that doesn't mean that a vehicle history check won't work. In nearly all cases, it will.
To get started, simply run your classic car's UK number plate through our system and we will instantly check it it has ever been stolen, written-off, has any outstanding finance, and much more.
A vehicle check may not work if:
You don't know the number plate, only the VIN (but see below),
The vehicle is an import, or
The vehicle is not road legal.
Buying at auction: Can I still check the history?
Yes.
However, you will need to ask the auction seller for the number plate, and/or its VIN. It is much easier to find out about the vehicle from the number plate if possible – but often this is not feasible. Many auction sites will mask out the number plate, but will show you the VIN. Note: If you are unsure what a 'VIN' is, we have written this guide here.
Regardless of whether you have the number plate or the VIN, a car check is possible. You just need at least one of them.
Sadly without either, it's impossible to look up the vehicle history, as there is no way of identifying the vehicle.
Will a Q plate vehicle history check work?
Yes. Here at FreeCarCheck we fully support 'Q' plate vehicles, as these vehicles are still registered with the DVLA and therefore fully road legal. There is no reason why a Q plate would not have a full vehicle history.
I only have the older style VIN, not the number plate. What can I do?
You are in luck!
If you have the VIN but don't know it's VRM (number plate) then read our guide here on how to look up the number plate from the VIN.
You will need to know the UK number plate if you want to insure the vehicle or need to contact the DVLA about it. And of course if you want to check the vehicle history, then a VIN-based check is not always possible with some providers. Knowing about the vehicle's history, even if it's 50 years old, should always form part of your due diligence – ideally before acquiring it!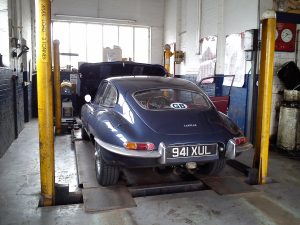 Why should I buy a 'classic car'?
The definition changes over time, as newer cars come out. Nowadays even a Mazda MX-5 might be considered a 'classic'. Indeed, a lot of 80s cars have appreciated in value over the last few years, and are now collector's items.
Regardless of the age of the vehicle, we can check its history for you.
Whether it's a Bentley Turbo R or a TVR Griffith, it may even appreciate in value – which is something that a lot of newer cars cannot promise. If the vehicle is UK registered and is not a 'true' import then the DVLA, DVSA, MIAFTR and others will have recorded its driving history. It isn't always true that an older car will have a less-than reliable history; many higher-end classic cars will have been looked after from the moment they left the factory for the first time!
Do Classic Cars need an MOT?
No. If the vehicle is over 40 years old, then it is exempt from MoT rules in the UK. The same also applies for road tax (VED), although there are some catches which are explained here.