For second-hand vehicles, checking the history is the most important thing you need to do before you buy. Failing to do even the most basic checks will likely end up costing you a lot more than you bargained for. Remember, hidden faults will often be expensive to correct.
Listed here are the most important checks that you need to pay attention to, when buying a used vehicle:
VIN Number
The VIN or Vehicle Identification Number is a globally recognised and unique code for your car. It is normally 17 characters long, and by decoding it, you can determine the model year, body type and original equipment installed on the car when it was first made. This is why it's so important to ask the seller for the VIN number or you can find it on the vehicle itself if you are doing a physical inspection – here's how to find it.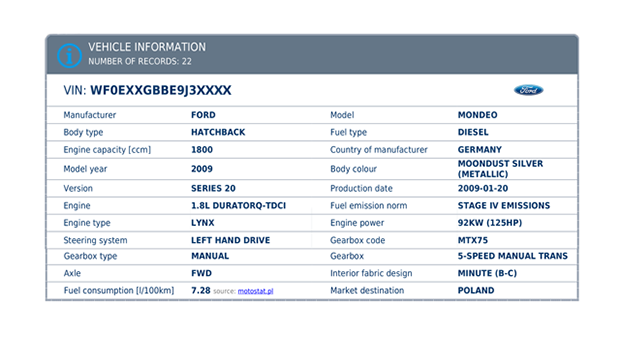 Equipment
The original equipment list is available by looking up the VIN (see above for how to do this part). You may be wondering why this is so important, but bear with us. The original equipment list is useful because it will tell you if the equipment has been changed – for example, if it has been in a secret accident. Often, when the repairs are done badly, then cheaper equipment is used to replace it. You must check the equipment list over to verify if it's all there or if parts are missing or unaccounted for.
Always check the colours of the leather or fittings, the external paint and the glass color (tinted etc); the colours of such elements like protectors, dash, mirrors, handles and so on – are the mirrors actually heated or have they been replaced with non-heated ones without telling you? Don't forget about audio and sat-nav even. On some cars, these are replaced with cheap Chinese alternatives!
If checked by you, then you can see when a vehicle is sold with different components than those it left the factory with, or additional equipment has been installed. Pay attention and make sure you know what you're buying.
Stolen Vehicle databases
Unfortunately there is no easy way for you to check this information on an individual basis, due to GDPR and other regulations this kind of data is only available at-cost. Thankfully, FreeCarCheck has the cheapest data checks in the UK that you will find – compare us here.
Odometer (mileage) clocking
Did you know that around 1/3 of second hand cars sold in the EU between 1999 and 2011 have had an odometer change? It's not really difficult to explain why many vehicles are sold like this; the greater the mileage then quite simply, the cheaper the price and the longer the vehicle takes to sell. So winding back the odometer is illegal, but it doesn't stop a lot of people who are only interested in making a fast buck.
In some imported vehicles, the odometer may have been clocked MORE than one: first in a foreign country (if it's an import) and then again when it gets to the UK. FreeCarCheck gathers information like this, even if your car has been used overseas. As long as it's on UK Plates, then we can check its stolen history.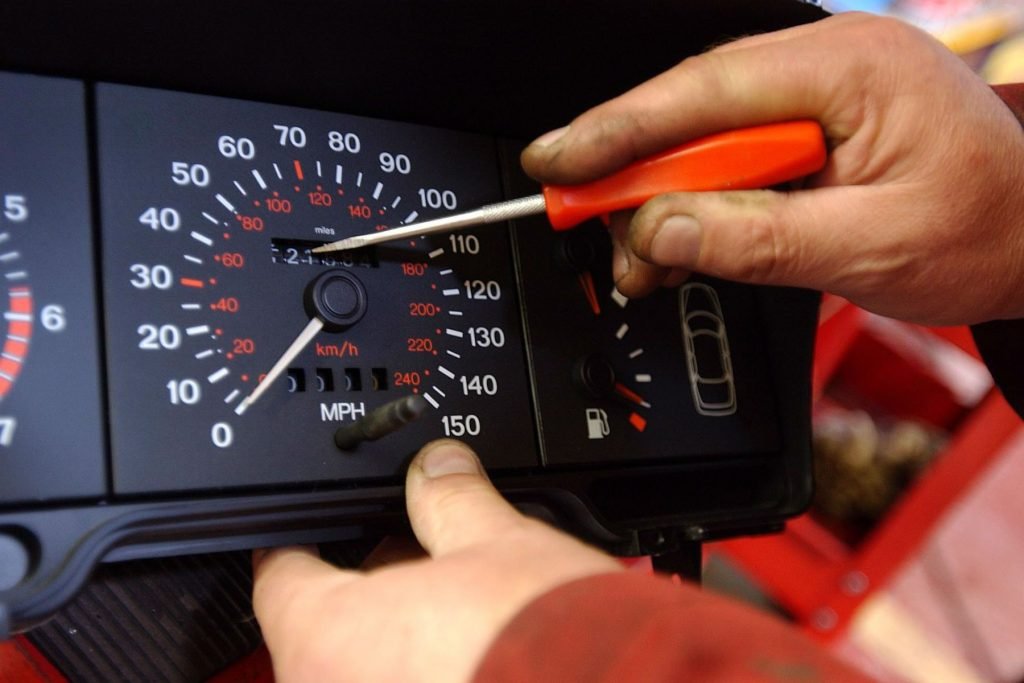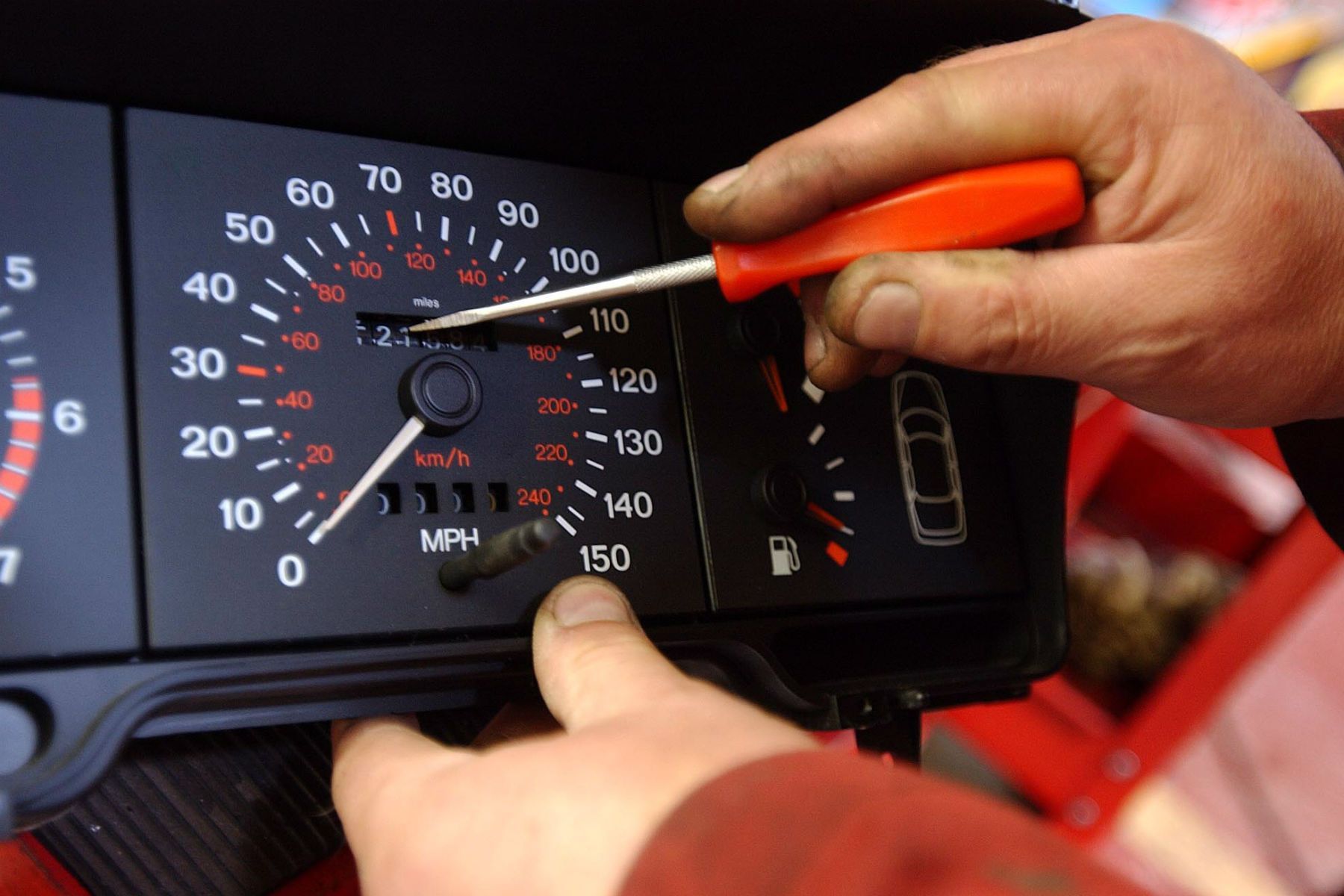 Salvaged/scrapped vehicles
Damaged, scrapped and write-off vehicles are easiest to buy because they're often the cheapest. Most of them are imported from the mainland EU, particularly through Netherlands as a transit route. Since salvage vehicles are an easy profit, unscrupulous car dealers love them. This is why you should always check the full history and get a FreeCarCheck report, not forgetting to verify the VIN number as per above. If you aren't sure how to do this, don't worry, our automated reports will do it for you.
Vehicle usage history
Would you knowingly buy an ex-taxi? Probably not.
But every year people do. If you were to combine the high mileage of these vehicles normally with a odometer wind-back (described above) then you'd probably be none the wiser. Cars used as taxis can be driven up to 300,000 miles or more. Compared to private vehicles used for social & domestic commuting, of equivalent age, the mileage of an ex-taxi will always be much higher. Most of these are sold by the old leasing company who generally do not hide the vehicle history, it's usually private sellers that are less than honest.
As with anything, some of these vehicles with such high mileages will be damaged with dents or have serious faults. Some will be a bargain bucket buy that never goes wrong – it's often down to luck. And, judging by the number of people who drove the taxi over the years (not to mention those who rode as passengers!), each of them with different driving skills and experience, you can safely assume the condition won't always be brilliant.
You can check the history of any car with our free data checks, where we use companies and organisations like the DVLA, Police, and VOSA to verify the complete vehicle history. We're so confident of the accuracy of our data, that we offer a Data Guarantee of up to £30,000.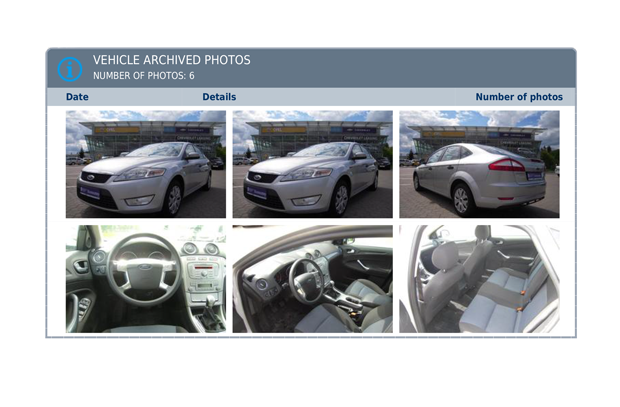 How do I check photos of the car or bike?
It may seem obvious but check over (and then double-check over) the photos listed on the website (such as AutoTrader or Bike Trader). You may not know if the vehicle has had accidents judging by the photographs alone – but quite often it's possible to see once they are enlarged.
To enlarge a photo on a screen there are two methods: either hold down SHIFT and press the "+" key in your browser (at the same time) and then it'll zoom in on the photos of the vehicle further. A lot of websites do not allow you to zoom in normally, so this method helps a lot.
The other method is to go to the top menu > File > Zoom in your browser.
Does the number of previous keepers affect asking prices?
Yes. This is often overlooked – but it shouldn't be!
We have more information on the effects on the price (and how to haggle better) if you are buying a car with a higher than expected number of previous keepers. All our Premium car data checks include full previous keeper/owner history such as the number of previous keepers.
Did the current driver do more mileage than the previous keeper before them? Then be sure to get the full facts first, before making an offer, as this can significantly affect the price you offer.
Should I buy an ex-taxi or ex-courier vehicle?
This is entirely your choice – often it makes financial sense. Naturally these vehicles will have a higher-than-normal mileage for the age of the vehicle, but the price should be realistic.
One of the benefits of buying an ex-private hire (taxi) vehicle is that the spec will be high. Another is that they will have been serviced regularly – perhaps more regularly than a normal domestic vehicle.
But the overarching thing to remember is: price, price, price! An ex-Tesco delivery van – for example – will likely be much cheaper to buy than the equivalent van used for oddjobs by a tradesman. It will have higher mileage, perhaps some light dents or damage, but the price should be realistic. Read more on our guide to buying ex-taxi and hire vehicles here.