Most of us have heard of car or vehicle text checks – you text just the vehicle's reg number to them, and you'll get sent back a vehicle data report.
A few years ago, these HPI-style text checks were really popular, mainly due to their convenience. But are they still worth buying – or are there now better, cheaper and more in-depth solutions available?
What are the good things about car text checks?
Nobody can deny the convenience factor.
Typing out the vehicle reg plate into your phone and sending a text message – what could be simpler? But nowadays there are plenty of online alternatives available – such as apps, or even just regular websites, that do exactly the same thing (or in some cases, much more).
Undoubtedly, the convenience factor was a big plus in days gone by:  you'd get a report sent straight to your mobile phone if the car was stolen or had any adverse history. In many cases, people were already at the dealer forecourt and needed a quick answer, so text messaging was the easiest option.
But nowadays in 2020 there are many other, easier ways to get an instant text check, and for less money too.
Each car text check can cost anything up to £12. This is actually rather expensive – yes, it's still cheaper than the market leader HPI Check (who charge £15 – £20 for each vehicle check). But if you're concerned about saving money, you'll be pleased to know there are cheaper alternatives now.
What are the drawbacks?
Let's not forget some of the drawbacks of… sending/receiving text messages! We've all been there – you've sent a text but aren't sure if it's been received.
And how many times have you been asked to confirm something (such as a password or security code) by text message — only to find it never arrives, and has to be re-sent? This all seems rather dated now for 2020.
By purchasing a data check through us, there is no need to worry about failed delivery or being billed too many times. We will show you the data check results instantly after payment through our secure website – you can choose to pay with PayPal or credit/debit card. We'll also email you a copy of the PDF report for your peace of mind.
If you're reading this website on mobile already then you can see how easy, fast and convenient it is to use.
Although car SMS-style checks are designed to be simple, be aware that this may also be a negative…
To show you what I mean, compare this free sample of our own in-depth report, to what you may expect to receive by text message from a rival text check service.
Note that there are only so many characters allowed in each text message, and often the abbreviations are confusing. If you aren't a used car seller you may struggle to understand some of the lingo.
Here's an example of a generic car text check, for the vehicle GK56 PUY: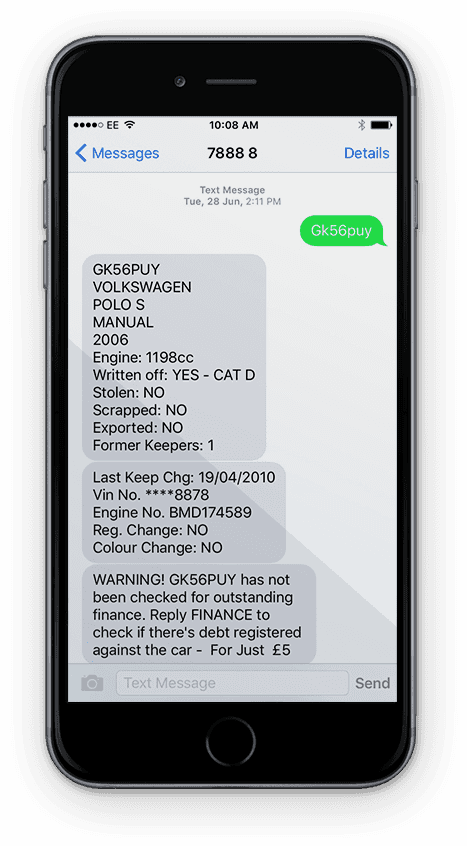 How much do SMS checks actually cost?
A typical car text check will generally cost about £10 – £12, although some services cost even more.
You have probably seen the £3 headline prices, but be aware: this will not include a finance check. Outstanding finance checks on their own can cost around £5, so add that on top.  Arguably, of all the checks, outstanding finance is the biggest and most important. And that's just the start.
Here's a comparison of the prices and what each car text check service/provider includes:
87777 (link) – The pricing here is quite clear. The entry level check costs £4. But, if you want to check for outstanding finance, mileage check (£3), plate change (£2), or valuation (£3) these all add up quite quickly, bringing the total cost to around £12 – £17.
HPI Check via SMS – now discontinued.
CarTextCheck (link)- unfortunately, there are no outstanding finance checks here, although the rest of the checks included are quite cheap at only £3.
So as you can see, there are quite a few additional costs to take into account. For comparison, our concise checks cover ALL of the above, for only £9.95 – and that's a one-off fee, including VAT and it's instantly delivered.
Why pay more?
Beware of the hidden fees!
A lot of companies advertise a very low price to lure you in. You pay it thinking you've got a bargain, only then to discover you need to buy additional check(s) — in the long run, it may end up costing you more.
With FreeCarCheck you only get charged once, and our checks include everything you need for any UK vehicle – i.e. if it's ever been stolen, has outstanding finance, import/export, write-off data and much more. Each vehicle check costs only £9.95 inc VAT, and the results are instantaneous.
If we can't do a vehicle history check on a vehicle, then we will tell you straight away – no waiting around for a text message to confirm it, trying to find a decent mobile signal, etc. Day or night, our checks are here – 24/7.
Do you check the same sources as other car text checks?
Yes!
Here at FreeCarCheck, we use identical sources and data providers as the bigger names like HPI Check, TotalCarCheck, MyCarCheck and so on.
All our data comes from the likes of the DVLA, DVSA, police records, SMMT, and many more.
Get a Premium car check now for only £9.95. Enter your vehicle reg below.