A car history check is the most vital part of the due diligence process you can do, when buying a used vehicle. Otherwise known as a vehicle history check (as you can also check motorbikes and vans, and even classic cars).
So let's try to explain what such a vehicle check actually is (and what it is not).
Any UK-registered vehicle can have its history checked. Whether it's SORN'd or still on the road, anyone can check out its history for free.
Note that some checks will not be free (whichever company you choose). Check out our sample Premium car report here if you'd like to see a demo of all the vehicle checks we provide here at FreeCarCheck.
What is included in a car history check?
All of the following should really be included in any history check:
Full MOT history
VED/Tax check – i.e. if road fund is valid
Stolen / police stolen
Scrapped and Write-off Checks
Finance – i.e. if any outstanding
Cloned plate check
…and loads more!
All you need to do is enter the VRM (the UK number plate, such as AB12 ABC). Get started here – we can also check private plates and Irish-style plates instantly, it only takes a second to fully check all the various sources. Which brings us on to the next question.
Which databases are used to access a vehicle's history?
Here at FreeCarCheck, we check all of the following trusted government sources as part of every Premium report:
Do I actually need a car history check?
If you want to check if a used vehicle has ANY of the following then the only way to do so, is to buy a history report. The DVLA, for example, do not give out this information for free (as they generate income from re-selling it).
Stolen status
Write-Off History
Outstanding Finance
Colour Changes
Vehicle owner changes/keeper numbers
A quick word on "FREE" car checks. It's in our name, so we try to provide as much data as possible for free. But some people think that there is such a thing as a 'free HPI check' – they are, strictly speaking, wrong. It simply isn't possible to provide all the data for free. The reason is because, the various databases we source our vehicle data from, charge money to access it. In other words, they do not provide it for free, so how can anyone else do so?
If you're concerned about using a particular vehicle check website, our advice is always the same: look at the reviews first.
Here at FreeCarCheck we try to provide as much vehicle data as possible, and for free. But if you need to upgrade to a full Premium report then our price is fixed – only £9.95 (inc. VAT) for a full vehicle history report – this includes EVERY check you need when you're buying a vehicle. Don't risk buying a car without checking its history first.
Can I get full vehicle history information for free?
You can get some basic information from the GOV.uk website directly here. For example, since 2015 it has been possible to obtain any UK vehicle's MoT history and tax (VED) status on the GOV.UK website.
The problem is, this information can be useful in some circumstances, but it is by no mean s exhaustive.
In other words, it may not be quite what you're looking for — if you're buying a used vehicle then it's imperative that you check much more than just the MOT and VED status. FreeCarCheck think that it's a great government initiative to open up so-called 'Big Data' and make this basic information free to access.
But don't forget, we also provide this exact same data (plus lots more) in our free vehicle reports.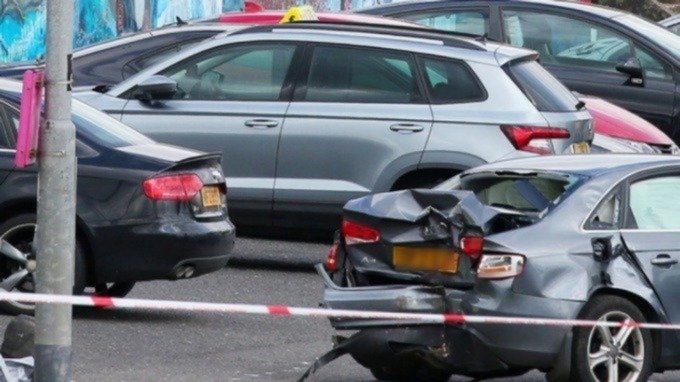 What happens if I buy the vehicle without an HPI check?
Our Premium vehicle history report – the most in-depth on the market – costs only £9.95 including VAT, per vehicle.
Why you anyone buy something as expensive as a car without first checking the history? Ultimately it could be the most expensive purchase you make for a few years. Of course, it will become a whole lot more expensive if you have to hand it back as it's stolen!
TIP: If you're concerned about what exactly 'HPI Checks' or 'HPI Clear' mean, then we have created this article to explain the differences.
Be aware that if you buy a car with outstanding finance, or that has previously been stolen (whether reported stolen or not at time of purchase), you will very likely have to hand the vehicle back. There are no guarantees in UK law that suggest you will get a refund of the purchase price if that does happen to you. Sad, but true.
Should I risk buying a car without a history check?
The number of stolen cars on UK roads – that is, driving around right now – is estimated to be as high as 1 in 7 in some areas. Car theft is actually much more rampant than many people realise.
So in other words, you may be out of pocket if you buy a stolen vehicle – whether you do so knowingly or otherwise. Is it worth the risk?
Our suggestion is to buy a car history check for less than a tenner and get instant acknowledgement and peace-of-mind.
Given that around 1 in 3 of vehicle checks shows hidden history – can you really afford NOT to buy a HPI Check style vehicle report?
Note that there is no such thing as a free history check – that is, if you're looking for the full set of vehicle history checks, it won't exist. But if you're just looking for a basic data check, we don't charge a penny (hence why we're called FreeCarCheck…).
If you're unsure about buying an instant Premium check, then here's just a small sample of everything that's included:
Write-off check (e.g Cat D)
Outstanding finance check
Import check
Export check
Grey import check
Scrapped check
VED (Tax) check
Number of previous owners
Colour change(s) / resprays
…and loads more!
If you'd preer to just do a quick FREE vehicle check, then our basic Free service includes all this:
MOT Check
MOT History
VED Check
Mileage Check
Export Check
In time we hope to add further checks, such as for ex-taxi vehicle history. If you would like us to add any other type of verification or check, please do get in touch.