It's not as straight-forward as you might think to find vehicle owner information by using nothing but the number plate (VRM). The DVLA don't hand out this information to just anyone, so you need to jump through a few hoops to get it.
Concerned about a vehicle? It may be a better idea to contact your local council if you have some concerns about a vehicle (such as an abandoned one), and there are processes in place to assist with this exact situation already.
Will a Vehicle Check show the registered keeper name?
No.
It is unlawful in the UK for us to disclose the registered keeper's details without their permission and it's the same for everyone else – unless you have a just cause.
Some examples of what the DVLA calls a just cause might be: if you are a parking charge company looking to find out the registered keeper to send them a fine, then that would probably be a "just cause". A vehicle check service such as ours, or an HPI Check by a rival company, will not disclose the registered keeper's details or address(es).
If you want to find out the current registered keeper's name, address and so on then it may be possible  – but it involves some legwork. You can find out more here in our guide on requesting driver information from the DVLA.
⭐ What owner information do you get in a Vehicle Check?
A vehicle check from FreeCarCheck WILL show how many registered keeper(s) have owned the vehicle. We just cannot show specific, personally-identifiable information about previous owners/keepers.
Purchase a vehicle check from FreeCarCheck here, and we will include all of this information:
The date that the previous keeper sold the vehicle
The date the previous keeper purchased the vehicle
How many previous owner(s) there are according to the V5C log book
Date first registered
Model year eg "2015"
Optionally – town/city where first registered
…and much more!
A Premium vehicle check service costs only £9.95 (inc. VAT) and also includes several other, additional vehicle checks like if the vehicle has ever been stolen, has outstanding finance and much more — Start here.
Tip: If you are buying a car shortly, and want to know if the registered keeper is genuine then make sure to check out this handy V5C verification guide as well.
How to find the address of the vehicle owner, by number plate?
If you want to find out the address then the process is the same as above, you will need to fill out form V888 from the DVLA and provide a "just cause" reason.  However…
It's unlikely that the DVLA will provide you with this information if for example you are concerned about a car that has been parked outside your house. It would be much better to tell the DVLA or the local council about it, rather than do any investigate work yourself. GOV.UK provides more information here including a helpful lookup feature if you aren't sure who your local authority is.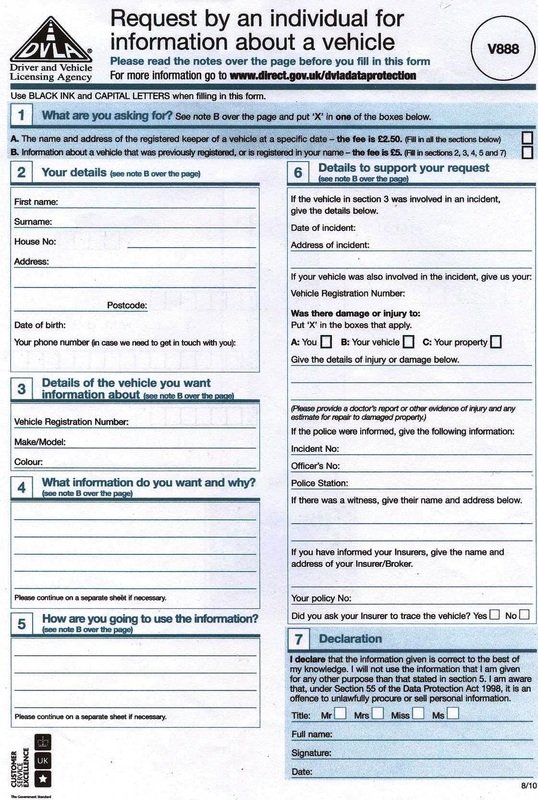 I have a dispute/legal issue with someone and want to find out their details by their registration plate. Is it possible?
No, it is not possible using any "vehicle check" service, so you may wish to approach the DVLA who hold this information.
Again, your mileage will vary but generally this kind of situation will not come under "just cause" with the DVLA, but remember it's free to try. The DVLA's form for requesting personal information on a registered keeper – form V888 – asks the applicant to provide some information on why they are requesting this data. As per this thread, it is then up to the DVLA clerk to decide if they will divulge this or not, although with the advent of GDPR has made this a bit trickier still.