If you are looking to buy a van, then the chances are that you need it for work.
Therefore, you will need complete peace of mind that the van you buy is going to be 100% reliable. And that means a clean van vehicle history with no unwanted surprises. Taking a chance and buying a van without checking its full vehicle history can cost you dearly. Your commercial vehicle could break down when you need it most. Or you could find out that it has been previously stolen or written off.
And the same advice applies to buying vans as any other vehicle: it is always worth remembering that if a deal seems too good to be true, then it probably is.
Why get a van history check?
A basic FREE van history check will confirm the make, model and registration of the vehicle you are thinking of buying. In some cases, this information is available partly for free online and easily obtainable via the GOV.uk website – but some information is not. For that, you will need to pay. At FreeCarCheck we offer the cheapest vehicle check – including for vans – at only £9.95 inc. VAT.
If the vehicle is expensive or you have some questions about its past, an advanced van history check might be wise – start now.
What should I look out for, when buying a van history check?
Never buy a van or pick-up vehicle with a warning flag for theft of finance.
In either case, the van will not belong to the seller and in the long run you will lose the vehicle and your money. Handling stolen goods is a crime if you suspect or are aware of the fact that the vehicle has been stolen.
If a seller owes money on the van to a finance company, the finance company legally owns it and the seller does not have the right to sell it without settling the finance. Buying a van with outstanding finance leaves you at risk of the vehicle being repossessed, leaving you without a van or your money if the seller fails to keep with the payments or does a runner.
Can you check the history of my van/pickup/other vehicle?
We get asked this a lot – and the answer is YES. Sure, we're called "Free Car Check" but we also verify other UK vehicles – thousands every day! We can verify any UK-registered vehicle whether it's a tractor, lorry, van, bike or car.
There are some exceptions – for example if the vehicle is an import and not currently on UK plates, then we can't check its history. But in 99% of cases we certainly can! Try us now, it's free for some of the basic history check data, and only £9.95 (inc. VAT) to upgrade to a full, Premium van check for full peace-of-mind.
Beware commercial vehicles with Hidden Pasts
It is a widely known fact in this industry, that 25% of vans have a hidden past. This could include anything from an anomaly with the mileage history, to a write-off that has been covered up. Not only that, but scores of vans every day are identified as being stolen. More than 10% of the commercial vehicles that we check also have outstanding finance.
You may already know that there are almost a quarter of a million stolen logbooks in general circulation. This means that there are potentially thousands of vehicles driving around under a false identity. And the worrying thing is that it is estimated that as many as 1 in 5 commercial vehicles have had their number plate changed. There is often a good chance that this could have been for unlawful purposes. A van HPI check will help to protect you against all of these risks. It will also provide you with much more information about a vehicle's history.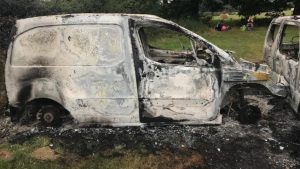 How we can protect you.
When purchasing a commercial vehicle such as a van, reliability is of the upmost importance as this vehicle will form part of your business and help you to make a living. There are several reasons for using FreeCarCheck for your van history check, and here are just a few of them:
We provide a comprehensive history check on any van or commercial vehicle, in the form of an accurate report that you can rely on.
Our checks use the latest technology available to ensure that not only is the information that we provide accurate, but that it is also current and up-to-date.
We understand exactly how much of an impact a commercial vehicle will make on your business, so our data is backed by a guarantee.
FreeCarCheck have untold experience in the commercial vehicle sector. Our expertise is unparalleled so you can be confident that you're in safe hands.
Our experts are dedicated to helping you, and they are on hand every day to answer any questions or queries that you may have.
A few other numbers
Rightful owner?
1 in 8 vans we check has at least one active finance agreement or loan against it and more than 41 per day are identified as stolen. Some vehicles will even have two agreements!
False identity?
1 in 5 vans has had its number plate changed. There are also 200,000 stolen V5 log books in circulation, according to the government's own figures.
Clocked?
1 in 11 vans we check has a discrepancy with its mileage meaning it may have been clocked. Find out more about vehicle clocking here.