The higher the number of previous owners a vehicle has had, generally the less valuable it will be.
Some unscrupulous sellers may not be honest about the number of previous keepers that a car has. Thankfully, there are several easy ways you can check this for yourself. Let's go through the four most common methods, and what to avoid.
Step 1: Ask the question
It sounds obvious, but ask the seller how many previous owners the vehicle has. In many cases they will know this already. Then ask the seller to show you the V5 logbook , and verify this against a vehicle data check from us (or elsewhere).
If the numbers mismatch by a wide margin, then this is a possible red flag. For example: the V5 log book says there are 4 previous owners, but a vehicle check from us reveals there are in fact 7 previous owners.
This is more common than you might think and is one method used by unscrupulous car dealers to inflate the asking price. If this happens to you, be prepared to walk away.
How do I check the number of previous owners?
If you want to search the history of previous car ownership there are a number of things you can do. We detail them here:
Order a car data check for £9.95 and we'll check the number of previous owners  (keepers) for you.
Check the V5 logbook yourself. Go through and look at this information (but make sure to cross-check it with a vehicle check).
Go through any previous receipts left in the vehicle as this can often show previous keeper details – like names and addresses.  Make sure the dates tally. You could always contact them by post to ask specific questions, although they may not reply.
Complete form V888 via the DVLA – see how to do this below.
How do I check other details about previous keepers – names, addresses?
If you are looking for specific previous owner information, for example theirs names and addresses, then (aside from as described in point 3 above) these can only be requested from the DVLA (details here).

Why should I pay when it's freely available?
If you're buying a used car, you're relying on the vendor to be at least partly truthful.
The name of the current keeper is covered by Data Protection and the DVLA do not release it to FreeCarCheck (or any other vehicle data check company). However, the names and addresses of the last two keepers are shown on the V5C. So ask for a copy – be bold.
Note that this method isn't completely foolproof. It is a known scam among less-than-scrupulous individuals to keep back an older copy of the V5.
While it is required to return older logbooks back to the DVLA, a lot of people don't actually bother. So make sure you're seeing the most recent V5 logbook.
Don't forget that some V5 logbooks are also fake.
Let us do the hard work for you
With a previous keeper check from FreeCarCheck for just £9.95 per vehicle, FreeCarCheck will verify the exact number of previous owners of any car, van or motorbike, and cross-check it with several government sources. This is called our "Previous Owners Check", quite simply.
The point of this check is to reassure you that the V5 logbook details are correct — and if they aren't, then it may highlight another problem. For example, this may mean the vehicle has been stolen (we will also do a stolen vehicle check as part of the same report, too).
We source our data from the Driver and Vehicle Licensing Agency (DVLA) when conducting a previous owner check. Our reports provide highly accurate information, so you should verify that it matches the information provided by the seller.
The previous owner checks we do here at FreeCarCheck come included as standard with all our Premium reports, which is the cheapest fully-featured data check online (compare us here). Why risk being defrauded for the sake of a few quid?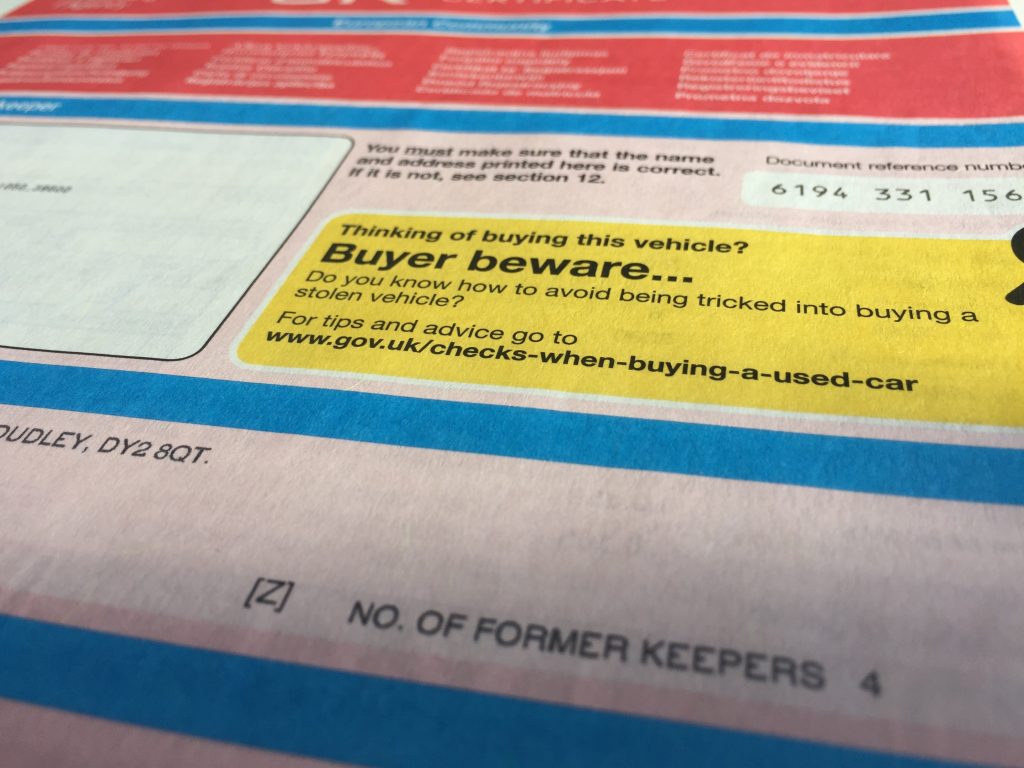 💰 How many previous keepers is too many?
This really depends on the age of the vehicle.
For example, if the vehicle is a "classic" and is 25 years old, then it's clearly more likely to have a higher number of keepers, compared to a vehicle that is only 3 years old.
Generally, in the UK, an owner will keep their car for an average of about 71 months, or 6 years. But this is just a guide.
And with the advent of vehicle finance and PCP, the average length of ownership per vehicle is decreasing all the time. Given that ~80% of all new cars are sold on PCP finance now, the average number of keepers is on the increase. Why? Because people are keeping their cars for less time than they previously would have. Most trade them in after 1-3 years.
Of course, in days of old, the common method to buy a car was with cash. But now that easy borrowing and low interest rates are all the rage, the car industry has gotten in on the act.
Here's an interesting fact: more new cars are sold on finance than are sold by outright purchase (cash) – by a factor of 5 to 1!
PS: Don't forget to read our separate guide on how to check if a car has any outstanding finance.