If your car is more than three years old then every year you need to take it for an MOT – this is a mandatory test that must be carried out to ensure that your car is in roadworthy condition.
The point of MOTs is to make the UK's roads safer. The UK has one of the strictest MOT tests in the world; this means that there are several ways in which your car can fail. To find out more about what an MOT entails, you can visit the relevant section on the DVLA website. MOT advisories are part of the MOT process, and since 2018, defects found on your car during an MOT are categorised as follows:
Fault Categories
The category in which a defect item will be given will depend on the type of problem and how serious it is. If your car has a fault that can be classified as either dangerous or major, then it will fail its MOT and you will need to get the fault fixed immediately. If the fault is classified as dangerous then the vehicle should not be driven on the roads until you have rectified it.
Your car can also have some minor defects, which on their own will not cause it to fail the MOT. Such defects have no significant effect on the safety of the vehicle or the impact that it has on the environment.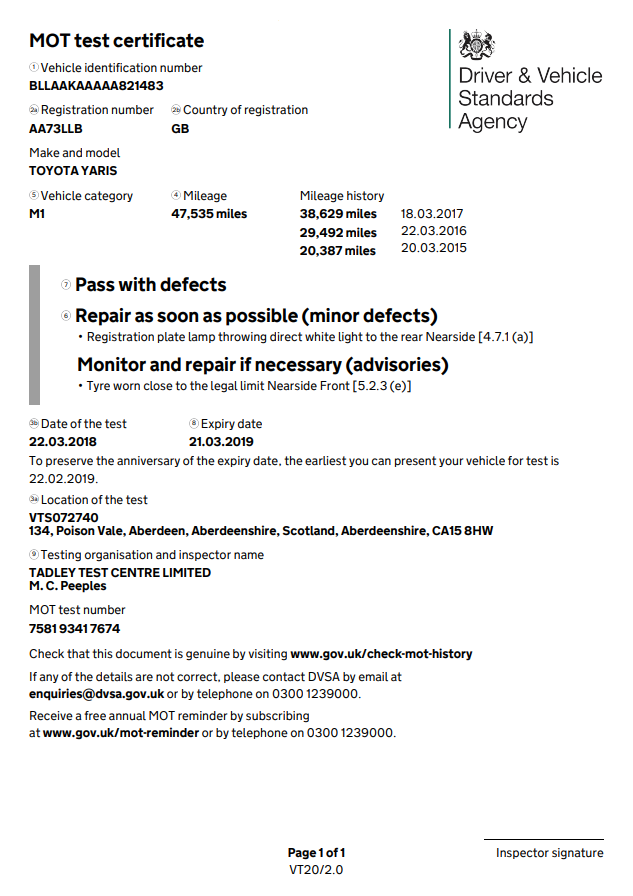 MOT Advisories
Then there are advisories. These are items that the MOT examiner has noticed that could become more serious in the future. You should monitor and repair such defects as necessary. Unlike the other kinds of defects, advisories may not appear on the MOT tester's guidelines. However, the tester is obliged to inform the car owner if:
The examiner finds faults on items that do not come under the MOT test
Items are close to failing, but not quite yet
There may be abnormalities on the vehicle.
Despite the fact that advisories don't cause your car to fail an MOT, if the examiner lists and advisory then you should not ignore it. In fact you should rectify it as soon as possible. Items such as worn tyres, fluid leaks and holes in the exhaust system may not cause your car to fail. But they can quickly develop into a bigger problem and cause issues where safety is concerned.
It goes without saying that advisories noted on your car's MOT are imperative in keeping your car safe and roadworthy. They help to pre-empt any issues that could potentially end up costing you a lot more time and money to rectify later on. With Free Car Check you can get the full MOT history of any vehicle, so that you can tell whether or not the previous owner has been responsible and looked after the car.