If you already have a private (personalised) registration number on your car and wish to replace it with another private registration then you have come to the right place. Replacing your private registration with a different one is a straightforward process. However it's lengthier than if you just wanted to assign one to your car. Or if you wanted to remove one that's already on there.
The first thing you will need to do is complete the removal process for the private registration that is currently on your car. When you do this, you have two options:
You can keep (retain) the number to use at a later date
You can assign the number to another vehicle
Removing a private registration number from your vehicle
Providing that the registration you are removing doesn't start with a 'Q', or 'NIQ' if you're in Northern Ireland then you will be able to keep it. You can apply online on the gov.uk website to remove your private registration.
If your application is accepted, then you will be sent a retention certificate (known officially as the V778 Retention Document for the number you have removed. In most cases your vehicle will then be assigned with the number that it was originally registered with. You will then be sent a new logbook (V5C) with this registration number on it.
When you apply online to remove your private registration you will need your current V5C (logbook) in your name. You will also need to pay a fee, which is currently £80. If your V5C is not in your name then you can still remove the private registration number, but you will have to apply by post with a V317 form.
V317 form
Simply fill in the online film which asks for the private registration number that is currently on the car, as well as the document reference number on your V5C. It's then just a case of confirming your ownership details and paying the fee. Some vehicles may require an inspection by the DVLA before you can remove the number, but this is very rare. In most cases the process is instant so be sure to have a set of physical numberplates for your vehicle's original registration number to put on the car! Remember also to contact your insurer and inform them that you have changed your registration number to ensure your policy remains valid.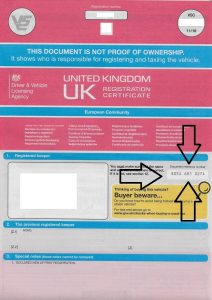 Unfortunately, your car will have to display it's original registration number for a while until you receive the updated logbook. This is because when you come to assign your other personalised registration to the car, you will need the document reference number from the new V5C, which will differ to the one on your current logbook. We have checked with the DVLA themselves and they have confirmed that there is no way around this. The DVLA state that it can take up to six weeks to receive your new logbook, but we've always found it to be considerably quicker than this.
Assigning your new private registration number to your vehicle
Once your new V5C arrives in the post, you are ready to assign your new private registration number to your vehicle. Do to this you will of course need the new V5C, as well as one of the following:
A V570 Certificate of Entitlement. This is the certificate that is issued when you buy a private registration from somewhere like Newreg or Regtransfers.
A V778 Retention Document. As mentioned previously this is what you will be issued with when you have removed a private registration number from a vehicle that you already own, or perhaps if you have purchased your private registration number from a friend or somewhere like eBay.
Assigning your new private registration is just as easy as removing the old one. It's a case of providing the DVLA with the new registration number you want to put on the vehicle, the current registration number (not your previous private registration number), the document reference number from your latest V5C and then the serial number from either your V570 Certificate of Entitlement or your V778 Retention Document.
Again this process is immediate providing you don't have to have your car inspected by the DVLA. So make sure you have the plates made up for your new private registration! You will also need to contact your insurer to let them know that you have changed your registration. This will avoid invalidating your policy. There is no payment due to the DVLA when assigning a number to a vehicle, so the only thing to be aware of when the application is successfully completed is that you will have another new V5C logbook sent to you with your new private registration on it.
Inform your insurer
And that's it. It is quite a lengthy process, mainly due to the wait for the logbook to arrive between removing your old private registration number and putting your new one on. However it's also pretty simple. The most important thing to remember is that you will need to contact your insurer twice. This is because you will have to let them know both times that your vehicle's registration number has changed. Currently the DVLA do not offer any process to simply switch one private registration number with another one. But who knows whether they will offer this facility in the future.