When it comes to carrying out checks on a vehicle, a mileage history check is one of the most vital.
Only if you know the true mileage of a vehicle then can you tell how well the previous owner(s) have looked after it. It can also give you an indication of whether any of the vehicle's vital components are due for replacement or renewal.
And ultimately the prior usage of the vehicle – i.e. how well looked after it was – will affect the price you pay on the forecourt. So it really does pay to know about the prior history of a car, bike or van before you purchase it.
Let's delve in and analyse mileage anomalies, clocking and mileage history in some more detail.
How are mileage records recorded?
The most commonly used source for mileage history is from MOT testing. Whenever an MOT test is performed, the engineer will (by law) record the mileage of the vehicle at testing time.
Over the years, this will create a useful mileage log – that anyone can now access for free from GOV.uk.
You should compare this reading to the actual reading of a car's odometer when you view it, to make sure that both tally up. If there is anything untoward here, ask the seller why – and be prepared to walk away. It is estimated that almost 2.5 million vehicles in the UK have a discrepancy between the mileage that appears on the odometer and mileage data that is held by the DVLA.
A Premium vehicle check from us (see sample) will highlight this, and it only costs £9.95 (inc. VAT) per vehicle.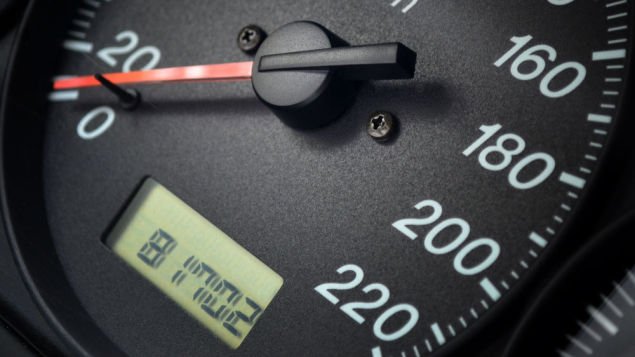 What is clocking?
Sadly, some dishonest sellers and dealers adjust the mileage to make the vehicle appear more valuable, and less used.This is known as "clocking".
Essentially, this is to make the vehicle appear as if it has travelled fewer miles than it genuinely has. Dealers will therefore then try to sell the vehicle for more money than it is worth.
With a mileage anomaly check from FreeCarCheck, it is possible to easily identify any clocking activity.
Our Premium vehicle check will inform you of the vehicle's estimated, actual mileage – as well as the mileage logs from all MoT tests. It is advisable to steer well clear of a car if you think that someone has clocked the mileage. There is no reason for anyone to clock the mileage if they have been looking after it, and are genuine…
In other words, if there has been clocking performed on the car, then in all likelihood the dodgy seller will have also performed other tricks and scams like fake scrapping.
What is a mileage anomaly?
If the mileage of the vehicle looks suspicious, – for example if the vehicle has potentially been mileage clocked (see above), – then this is a likely sign that you should walk away.
Sometimes the recorded mileage can effectively go down – this is known as a mileage anomaly. It is not always a sign of mileage clocking – but it can be cause for concern.
Mileage clocking is commonly used by unscrupulous dealers and sellers to wind back the mileage. Despite the portrayal in the movies, it is no longer done with a drill — nowadays specialist software is used, as many tacometers are digital.
We cross-check our mileage reports from various sources and if one of them has a mismatch against the data we're seeing then this is known as a mileage anomaly.
In some cases, it's an innocent mistake and the mileage has been entered wrongly somewhere, but not everyone has good intentions. Don't be afraid to ask questions if you come across a mileage anomaly – our vehicle checks will flag this up instantly, so buy a report today for any UK vehicle for only £9.95 (inc. VAT).
Why is it important to get a Mileage Anomaly Check?
In other cases, dishonest sellers may reverse the mileage before you view the car at the forecourt, and then put the mileage back to the correct mileage afterwards.
They do this to increase the price, and they know the chances of getting caught are slim… Do you honestly take much notice of the exact mileage when you view a used car? Probably not; you may mentally note down the approximate mileage, but most people will not notice a reduction between two visits (or if they do notice, may just assume they are going slightly mad!).
This is why it is so important to make a note of the mileage of any car that you are considering purchasing when you test drive it.
Is clocking illegal?
Yes and no.
In the UK, it is illegal to knowingly sell a car with mileage clocking.
Note the word 'knowingly' here – many private sellers may not even be aware that their pride and joy is actually showing a false mileage reading. Another reason to get a vehicle check before buying!
But sadly it's not illegal to buy the equipment that can reverse the mileage on a vehicle – it's a legal loophole. This means that anyone can purchase the equipment capable of reversing the mileage on a vehicle. So it's important to complete a mileage anomaly check before you consider buying any used car.
And there are some legitimate reasons to alter the mileage – for example, if the car has had an engine replacement, this will obviously change the reading.
How widespread are mileage discrepancies today?
It's a common misconception that ilegally changing the mileage on a vehicle is a thing of the past, or for older vehicles only. According to the Independent via HPI Check, around 1 in 7 vehicles on UK roads in 2019 show signs of a mileage discrepancy – and that number is rising, not decreasing.
Is there such a thing as a free mileage check?
It's possible to find out the approximate mileage of any vehicle if you know how to do it – but that will simply show you the mileage at the last recorded point i.e. when an MOT was last performed (we can check this too).
In some cases the last MOT could be 364 days ago, so will give a misleading reading. What's more if the owner hasn't MOT'd the vehicle for a few years, then the last recorded mileage will be way off.
All mileage checks based on MOT reading will only show you the most recent mileage record; if you want full peace of mind then you really need to see the historical mileage records to be able to see if anything is suspicious. We at FreeCarCheck provide this service, and also map all mileage records into graphs.