The UK are a nation of car lovers. To the average Brit, a car is not just a way of transporting people or objects around. It's a reflection of our personality. One of the most popular ways to express ourselves via our vehicle choice is to opt for a classic car.
Back in May 2018, classic car owners and enthusiasts welcomed the news that 300,000 more cars were to become exempt from the usual MOT rules.
Prior to this date, a car was only classed as 'classic' in status if it was first registered before 1960. So unless it was registered before 1960 it wasn't exempt from the annual MOT test. The rules were changed in 2018 so that from the 1st of April each year, any vehicles that were manufactured more than 40 years before 1st of January of that year are automatically exempt from requiring an MOT, as well as paying the annual Vehicle Excise Duty (otherwise known as road tax).
Before the change was introduced, there were around 200,000 tax and MOT exempt cars in the UK. However, since May 2018 this has increased to almost half a million, as more cars fall into the catchment age of being over 40 years old. This means that you can expect to see some real modern classics to be driving around with no MOT, including Mk1 and 2 Ford Capris, Vauxhall Vivas, Triumph Stags and MGBs.
MOT Exemption Exceptions
There are of course exceptions to this rule. If a vehicle has undergone significant modification in the past 30 years, then the exemption may not apply. Vehicles might not be exempt from the MOT if any the following have been altered in the last 30 years:
Engine
Axles or running gear
Chassis and subframe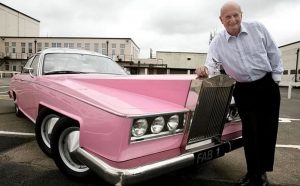 Of course many 40 year old cars aren't gong to be running on their original engine that hasn't been rebuilt at some stage, so the guidelines state here that drastic changes to the engine would include something like changing the number of cylinders within the engine. Full guidelines for modifications that may mean a vehicle is not MOT exempt can be found on the GOV.uk website.
Declaring your Vehicle as MOT Exempt
Although your car will be considered as exempt once it reaches 40 years old, this will not automatically happen. You need to complete the DVLA historic vehicle process before your vehicle is eligible for exemption. You can apply for that here at GOV.uk.
The owner of the vehicle will then need to obtain a V112 (Declaration of exemption from MOT) form from the Post Office or online. Fill this in and then send it to the DVLA.
Do I need to declare my vehicle as MoT exempt?
In all likelihood yes. As above, it does not happen automatically, and you will need to declare it as such. Otherwise you may receive a fine from the DVLA.
How old does a motorbike have to be, to be MoT exempt?
Older motorcycles that have been modified in some way may not be exempt. As the rules state that vehicles that have been subjected to 'substantial change' will not be MOT-exempt. However, the meaning of 'substantial change' isn't quite clear.
The criteria for 'substantial' change has been laid out by the Government, but doesn't apply specifically to motorcycles as of yet.
Will a vehicle check show if the MOT is exempt?
Yes. All our vehicle checks will fully check and verify a vehicle's MOT status. You only need to run the vehicle's registration plate through our free checker and it will verify this instantly for you.