A Scrap Check is included with every Premium vehicle check at FreeCarCheck. But what exactly is a Scrapped Check and how useful is it? Should I worry if I'm buying a scrapped car?
Firstly let's explain what scrapped actually means, and what it doesn't mean.
What does "scrapped" actually mean?
In the UK, a scrapped vehicle is simply a vehicle that has been legally taken off the road – forever.
It may or may not have been crushed; not all scrapped cars have been crushed. Many are later sold for parts. There is no one-size-fits-all definition, but in a nutshell it's a black marker against any vehicle.
It's illegal to drive a scrapped car on the public highway, but buying a scrapped car unknowingly is surprisingly common. An HPI-style check from us will tell you instantly if the vehicle has ever had a scrap marker added to it.
The DVLA handle the scrapped vehicle register. We source our data from the DVLA directly – among others – so for the ultimate peace of mind, get a scrapped car check from us for just £9.95.
You also cannot insure a scrapped vehicle easily, if at all, in the UK — in short, don't do it!
Get a Scrap Check now and put your mind at ease. All our Premium vehicle checks come with a "scrapped" check as standard.
Is buying a scrapped car a good idea?
No. Never knowingly buy a scrapped car. You won't be able to insure it, or drive it legally, as it doesn't officially 'exist' as a vehicle.
How does a car get 'scrapped'?
The most common method for scrapping a vehicle in the UK is when it has become too old and/or costly to repair, for example after it has been in a serious collision. The vehicle's insurance company will have made a decision not to repair it, and scrapped it.
If a vehicle is a non-mover but the parts are worth money, then it's possible to SORN it first, strip the parts, then scrap it afterwards. This is an increasingly common method.
Be aware that this is quite different to being "written off" (sometimes called an insurance write off). You can still drive a written-off car in the UK under some circumstances, but you cannot drive a car that has officially been "scrapped".
The main difference with a write-off vehicle and a scrapped vehicle, is that the latter has not been repaired. A write-off vehicle will sometimes have been repaired and returned to the road, legally. But a scrapped car cannot be allowed back onto the road, and should not be purchased. It is a permanent record of removal of the vehicle, also known as a certificate of destruction (more information here).
That is why it's important to know if the vehicle you're buying has ever been scrapped.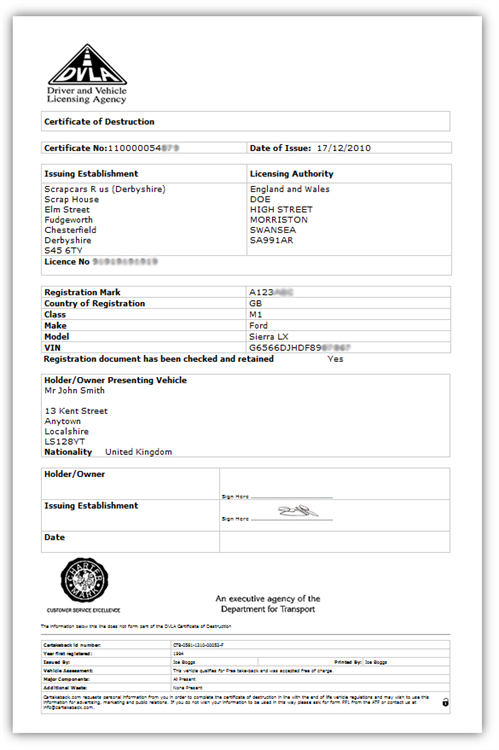 What scams should I be aware of?
There are quite a few pitfalls and potential scams to be aware of, when buying a scrapped vehicle.
Some examples are:
The vehicle may not have been scrapped.
A cut-and-shut scam
The quality of the vehicle may be less than expected
The price may not be accurate or may change
The main concern is that a scrapped vehicle hasn't actually been scrapped, and the paperwork is false. This is a fairly old school scam in the UK, but be aware of it, as it still exists. Normally, it results in your old car being re-used in a "cut and shut" scam. There are some pointers here on how to avoid this con trick.
Generally, asking for all paperwork and license information when scrapping your car is a good tip, and only use reputable scrap firms. There is a 'Register of Scrap Metal Dealers' on the GOV.uk website, so it's advisable to check that first.
Will I be offered a fair price for scrapping a vehicle?
Scrap dealers can often make big promises that aren't accurate. Sadly, the sector is still fairly unregulated in the UK.
An example is a "minimum offer", such as the claim that the scrap dealer will pay a minimum of £250 for any car. Once you drive to the scrapyard or forecourt though, you may find this offer too good to be true, and the price is reserved only for specific makes and models that the dealer is after.
Another pitfall is – as is the case with most used car dealers – the price isn't fixed. Be prepared to haggle, because a dealer will want to get the price down as low as possible. They will likely find faults you didn't know existed, and offer a 'take it or leave it' price. If you go into the transaction with your eyes open, then you will be prepared for these methods.
If you don't feel confident in approaching a scrap dealer directly, then asking a friend or family member may be a better idea. It's important to be firm but fair.
How do I check if a vehicle has ever been scrapped?
A scrapped marker cannot be removed, once it has been registered. So it will always show on the vehicle.
You cannot check if a vehicle has been scrapped directly with the DVLA for free sadly, but you can buy a car check from us (or elsewhere) and check it that way. This is because the DVLA does not release this information for free.
If a vehicle has ever been scrapped then it should have been taken to an "authorised treatment facility" (ATF) — otherwise known as a breaker's yard or scrapyard. You can find out more here from the DVLA about the process. Be aware that you must notify the DVLA yourself if you have scrapped a vehicle – see the above link. It is an offence to not inform the DVLA if you have scrapped your car.
How long does it take for a vehicle to be scrapped?
In the UK, it can take up to a month for any scrapped status to update with the DVLA database – but in our experience, it rarely takes that long.
If you've already bought a car or van that has been scrapped, you may be able to claim on your GAP insurance policy (if you have one). But read the smallprint carefully because it doesn't always cover you. If you do not have GAP insurance then make sure to read our guide on it, and get £20 off your ALA Gap Insurance policy with a voucher code.
In short: If you're purchasing a vehicle and you aren't sure if it's scrapped or not, buy a vehicle check first, for ultimate peace of mind.